Founded in March 2015, Truthfinder is a relative newcomer to the online background check and people search industry. However, don't mistake youth for a sign of low quality. I discovered that the disruptive service takes the typical online background check experience and levels it up with a killer user interface, top notch customer service support, and comprehensive records.
To test TruthFinder, I tried to locate an old friend from high school. Starting out, I wasn't able to find much about him online. I tracked down his Facebook account, but it hasn't been updated in several years.
Here's a handy pro tip to keep in mind when using background check sites: be sure to write down all of the information you have on hand before you begin your search. That includes:
First and Last Name
Gender
Birthdate and Age
Last Known Location
The more information you have, the easier it is to pull the exact right record. This is doubly true if the person you are searching for has a common name. Common names can give you hundreds of results, which require some filtering before you track down the exact right one.
UPDATE: TruthFinder is now including "Premium" data at no extra cost. This used to be an additional $17 charge per report. As of right now, TruthFinder is one of the ONLY companies that doesn't charge extra for this upgraded data.
Truthfinder Home Page

When I first landed on the site I was greeted with a straight forward interface (pictured above) asking me to input the name and location of the person I was trying to locate. Easy enough. I wasn't sure what city he was currently living in so I left that field blank since it was optional.
Search Page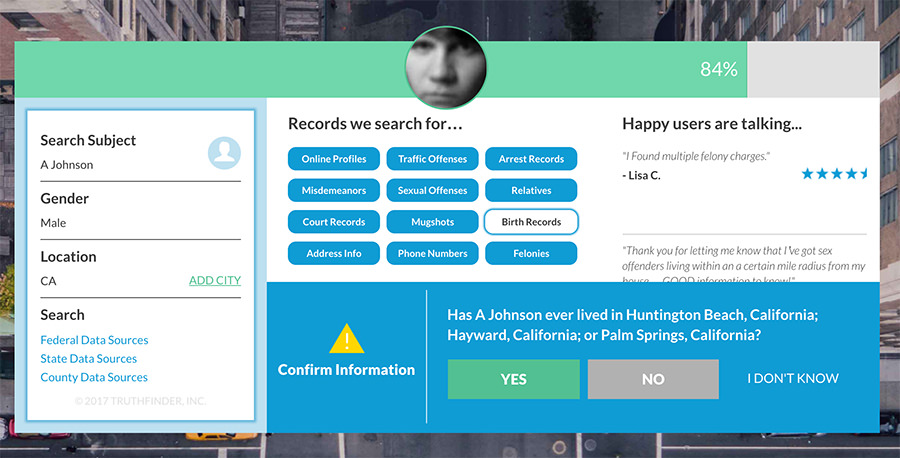 After entering the name and state, I selected the correct gender and my search was under way. Now, this is the part that takes a couple minutes, but based on the amount of information that TruthFinder must be searching I can't imagine this is something that can be done instantly. As the search progressed I had to answer a couple questions to help narrow down the results but it was interesting to see what kept popping up. When the search was finished, it turned up a few dozen results, but once on the search results page, you can narrow it down with more information. That finally brought me to the report I was looking for.
Report Page
The report itself was rich in data. It started with with their basic info, like name, aliases, and birth date. In these screenshots, I blacked out some information here to protect his identity, but I'm able to access all of it.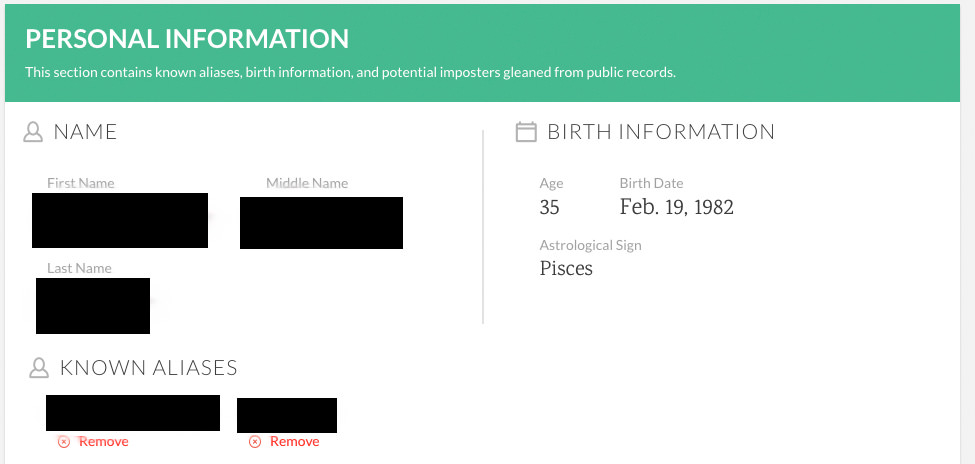 But then it also provided more in depth information, such as work history. I'm not sure how they gathered all this data, but when I double checked it for accuracy, it was spot on.
Contact
The contact information was a mixed bag but contained up-to-date information. It listed a phone number that I know that my old friend hadn't used in a long time in addition to his current phone number, but it also listed a slew of possible email addresses. Next to them, it listed a "Valid Since" date, which told me how current they are.
Locations
The locations section was extremely comprehensive, and stretched all the way back to his childhood home. If you're looking for a mailing address, this is the place to look. I was able to see where he is living now, as well as a few spots he lived in the last few years. To get more data on any specific location, you can click on "View Location Report." The location report gives you more in depth information, including neighbors, demographics, and current residents.
Criminal Records
This is the part where it gets kind of crazy. I know the person I searched for was a law abiding citizen, or so I thought. When I scrolled down to the Criminal Records section of the report, I was genuinely shocked at what I saw. My friend had been arrested in another state on drug charges. And not just any drug charges, a felony drug charge.
It was interesting to see all of the information associated with the arrest, like the fact that their was a conviction and even the plea that was entered. Unfortunately, this particular report did not include a mugshot but according to the website, mugshots are available for many reports. TruthFinder does an excellent job of laying out all of the information in an easy-to-read format. Again, I had to black out some of this information to protect this person's identity but it's all readily available on the website.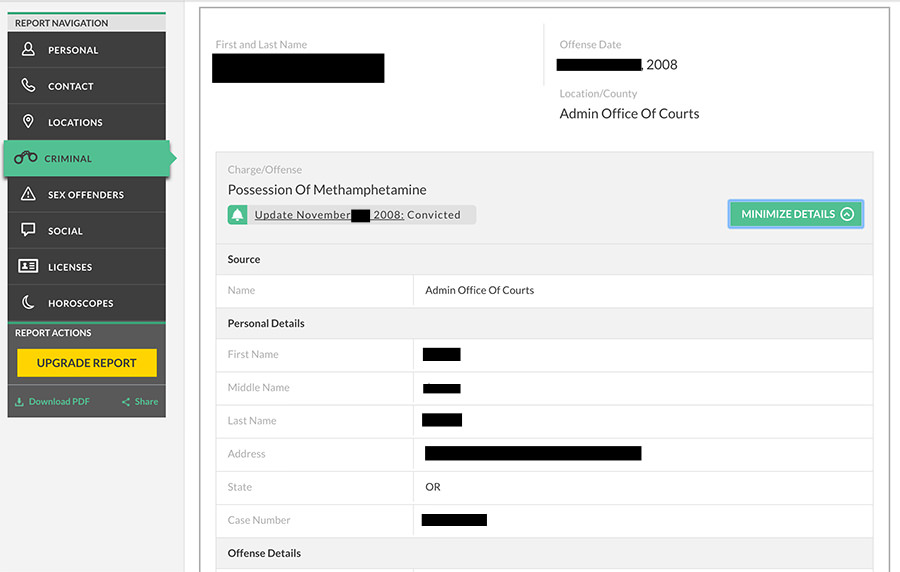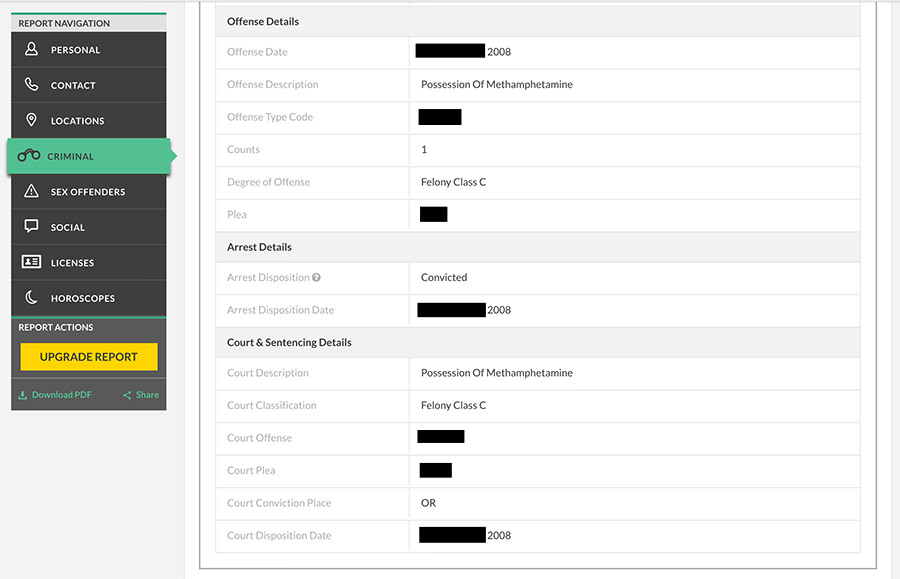 "After seeing this, it sort of made me wonder if anyone else that I knew had something crazy in their background report."
Social Profiles
The social profiles section was also useful. Sure, it had the Facebook profile that I already knew about. But it also had a Twitter account, a Foursquare account, Linkedin, and Google+. Other reports I browsed through even listed social networks and online forums I hadn't even heard of. In one case, there were even some references to adult websites which was kind of surprising.
Additional Features
Truthfinder is unique in that it doesn't just offer basic background check info. You can also access public records in other ways.
Search By Email
Sometimes, when you're trying to track someone down, you don't benefit from having someone's name, age, and city. If all you have to go on is an email address, then you still might be able to find them via Truthfinder.
Address Lookup
Curious about who your neighbors are? Want to learn about them, even if you don't have their name? The Truthfinder address lookup feature can give you a bunch of info about a particular address, including current and past residents.
PDF Downloads
Sometimes, it's easier to have a copy on file. Maybe you want to be able to store the data on your computer, or you want to be able to send it to someone else in an email attachment. That's why Truthfinder offers PDF downloads. For an additional one time fee of $2, you can download as many reports in PDF format as you want. The PDFs are well designed and lay out the information in a way that's pleasing to the eye.
Report Monitoring
Online background check reports aren't static. New information is added to them all of the time. If you want to be updated whenever a background check report gains new data, you can choose to do so at no extra cost. This allows you to get notified whenever there is more info that you might be interested in. I thought this was a fantastic free perk that underscores why TruthFinder is our number one pick.
Pricing
| | |
| --- | --- |
| 1 Month | $27.78 |
| 2 Month | $46.04 |
Truthfinder has two pricing plans: month to month and quarter to quarter. The monthly plan costs $27.78 and the quarter plan costs $23.02 a month (paid every two months $46.04). However, the price fluctuates frequently, so it might be slightly higher or lower when you sign up.
Customer Service
According to the website, TruthFinder offers free customer support by email, chat, and phone, 7 days a week. I didn't have any technical issues while I was conducting this review so I can't speak to the quality of their customer service. But the fact that it's available on weekends is comforting. In addition to this, one of the things I really liked about TruthFinder was that it was easy to cancel. I could do it online without having to call in or send an email.
Bottom Line
The people behind Truthfinder did a great job combining a great user interface, a comprehensive database of information, and a ton of cool optional features for anyone who wants to be their own personal private eye. The price is a steal — a tiny fraction of what it would cost to pay a private detective to get it for me. The fact that I get to run an unlimited number of reports means that I don't have to think twice about looking someone up. Whenever I want more info about someone, I can just look them up.
This is online background checks at its best. No one yet comes close to this combination of data accuracy, useful features, and easy-to-use design. It's a powerful research tool for anyone who wants to find people or learn more about people's pasts.